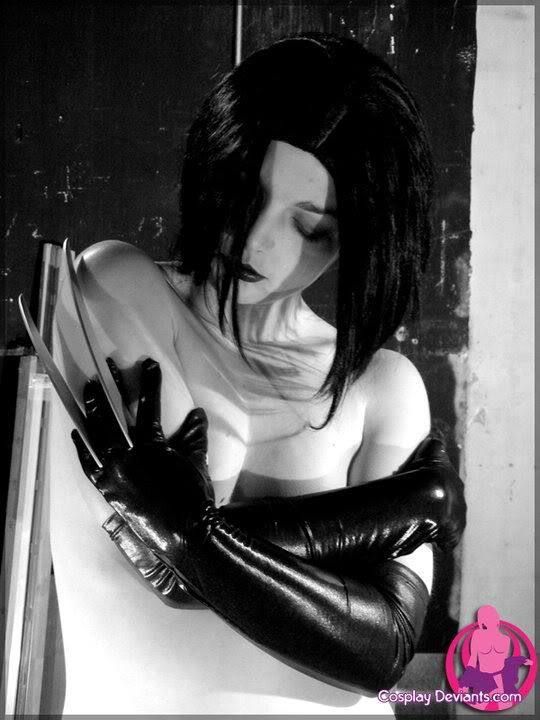 Once again I have the luck to interview a beautiful cosplayer. You may recognize her work from Cosplay Deviants, Gods Girls, or even bumped into her at a convention or two. So sit back, relax, and enjoy my interview with Aglaia Venus.
1. What is your name and where are you from?
Aglaia Venus, though sometimes people call me Aggie!
I come from the land where pinup, cosplay, and epic nerdy-ness reigns supreme.
2. How did you discover cosplay?
It's very simple, really. I saw a character in a comic book who wore a miniskirt, kicked ass, and looked incredible doing it. So I dressed up as her. had no idea I was cosplaying at first!
Cassie Hack, Chii, Sailor Mars, Miwako, Steampunk Angel, X-23, Ghost, Death, Jill Valentine, and quite a few more. I am constantly working on more cosplays.
4. What sites have you worked with?
Godsgirls.com and Cosplaydeviants.com =)
5. Who is your favorite character to cosplay?
I'd have to say it's a draw between Sailor Mars and Cassie Hack. Cassie most like me, and Mars is pretty much a childhood dream.
6. Do you read comics? If so, what are your favorites?
Hack/Slash, Gotham City Sirens, Madame Xanadu, Ghost, I Luv Halloween, Punisher, and three long boxes full of other titles.
I'm not much of a gamer! I just suck sooo hard. When I do play, I play PC, X Box 360, and Playstation One.
Fav game on PC - probably pogo.com or (Classic) Sims.
Fav game on X Box 360 - Halo (3 and Reach) and Fable
Fav game on PS1 - Vagrant Story
I am working on a few things... a female Punisher, Major Motoko Kusanagi (Ghost in the Shell), Mikura Suzuki (Mezzo Forte), Erzsebet Ondrushko (Hellboy: Iron and Blood), and I really really really am dying to cosplay a Battle Sister (warhammer 40k).
9. Where do you like to show off your costumes the most?
Conventions, of course!! Modeling in them is awesome, but not everyone gets to see them on the site. Besides, nothing makes me happier than seeing some thrilled to see my cosplay. I mean, who doesn't love a fan moment?
10. What would you say is your favorite genre to cosplay?
Kick-ass and independent girls. (it should be a genre of it's own)

*Cosplay Deviants and Gods Girls both contain nudity. You have been fore warned XD*