It is that time once again, Time for me to find wonderful talent in the realm of cosplay and ask the questions, that you my readers want to know. This time my interview is with the beautiful and very talented, DJ Spider.
1. What is your name and where are you from?
I'm DJ Spider. Originally, I'm from the Caribbean, but I'm currently living in Charlotte, NC. I split my geekeries between DJing and costuming.
2. How did you discover cosplay?
Halloween was where it started,but I think my first true experience was at DragonCon in 2003, when I realized that there were TONS of people who had ideas like I did! I've always played dress-up, especially as a DJ, but seeing people that melded geekiness with costumes just tripped my trigger hardcore!




3. What characters have you cosplayed in the past?
Amethyst, Princess of Gemworld
Barbarella (both her green and black suits)
Big Barda
Dawn (various original interpretations)
Dazzler (both the classic silver and the 90's blue suit)
DreamQueen (Alpha Flight villain)
Maddy Pryor, the Goblin Queen
Silver Banshee
Star Sapphire (Classic)
Zatanna (blue JLA version)
4. What sites have you worked with?
5. Who is your favorite character to cosplay?
Without a doubt, Dazzler. She was the first super-heroine I remember being drawn to, and she'll always be close to my heart. But I'm always drawn to larger-than-life characters. I'm over 6 ft tall, so the bigger (or meaner) the better! Oh, and if it's an obscure character or a silly costume, I'm probably in! (ex - my Looker costume)
6. Do you read comics? If so, what are your favorites?
Oh, good golly, I have a HUGE list! I am always a sucker for a pretty cover, and any book that has a sense of humor :) Currently, I'm very much enjoying Jim McCann's work on "Hawkeye and Mockingbird", and Christos Gage is doing a bang-up job on "Avengers Academy". "Chew" is a fun, macabre little book that deserves all the accolades it's getting! Anything that Alan Davis is doing art for is an automatic for me, and I'm a big fan of classic George Perez. And if there's a cheesy holiday special out there, I probably have it LOL
7. Are you a gamer, if so what is your favorite game and on what system?
I'm not much a gamer -- I lack that killer instinct! Scrabble is about as touch as I get :)
8. What are your future plans in terms of cosplay?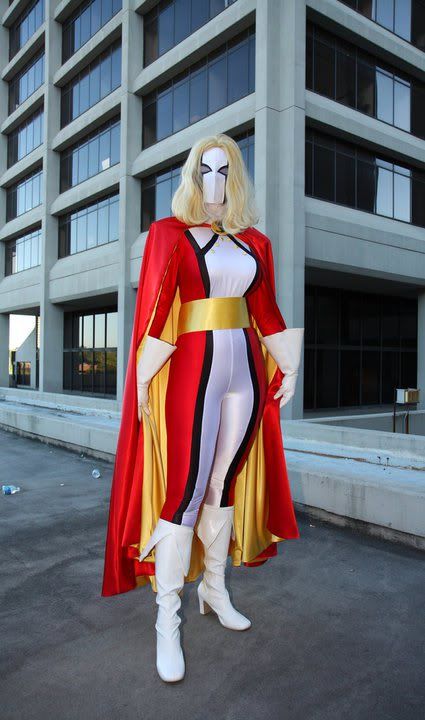 Sheesh, there's another HUGE list, and it grows every year -- just skimming the wishlist, I can count about 100 characters I've noodled down. I think that's why I do 4-6 new costumes a year...I want to do them all! I'm working on the 2011 list, but nothing is set in stone yet. At some point, though, I'd like to get a She-Hulk and a couple more Barbarella costumes done. There's probably someone from the Wonder Woman mythos due shortly as well. And apparently there's a movement to get me into a Giganta outfit as well!
9. Where do you like to show off your costumes the most?
DragonCon and HereosCon are my current regular haunts, and I love them mightily! And Halloween kind of pales in comparison :)
10. What would you say is your favorite genre to cosplay?
Comic book characters, followed by movies/tv characters.