Greetings fellow geek and geekettes, I am so thrilled and honored to present to you my interview with the one and only Adam Hughes. As you know this man is one of the best artists, if not the best, in the biz. You can currently see his work on the covers of the Zantanna series from DC Comics. Without further delay, I present my interview with Adam Hughes.
What is your name and where are you from?

My name is Adam Hughes and I'm from Florence, New Jersey.
What made you decide to draw for a living?
It's the one thing I was always good at it. I originally wanted to be an astronaut, but we stopped going to the Moon when I was 8.
Who is your favorite character to draw?
I'm fickle; it changes all the time. Catwoman, currently.
What companies have you worked for?
Almost all of them, including a few that aren't even around any more (not because of me, I hope). I've never worked for Disney. Yet.
I know that besides comics, you have done some art for Star Wars. What is your favorite Star Wars piece that you have done? Do you have a favorite character to draw?
Probably... I'd say it would be my Art Nouveau Slave Leia that I did for Star Wars CELEBRATIONS 4. My favorite would probably be Luke Skywalker. He's the hero, after all.
Where can we find examples of your work?
My DeviantArt page, for one. Also, my coffee-table book COVER RUN: THE DC COMICS ART OF ADAM HUGHES.
What projects are you working on at the moment?
I'm now the regular cover artist for DC Comic's ZATANNA. I'm doing various other covers for DC, including one for ACTION COMICS #900! I'm also working an a couple projects that are kinda hush-hush.
How does it feel to see some of your drawings come to life in statue form?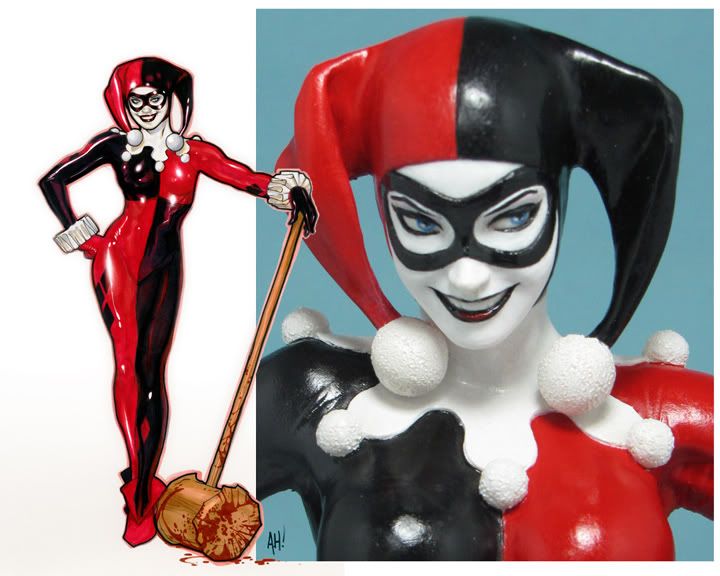 It was fun at first. Now, it's all about "Ooooh, they go that eyebrow wrong..." Once the magic wears off, it's all about the Job at that point.
What are your plans for the near future?
Try to be happier, and figure out how to be middle-aged.
Be warned: 'fun' and 'rewarding' are not the same thing. Once your avocation becomes your vocation, it's time to find a new hobby. Drawing for a living can suck all the fun out of the process, but it can still be a richly rewarding experience. You MAY be one of the lucky idiots who still has fun, in which case, well.... you suck.